What We're Doing In Response To Covid-19
Jun 12, 2023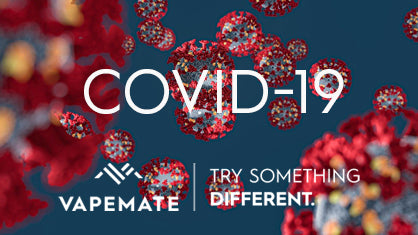 We've been thinking a great deal about you lately in response to the current COVID-19 outbreak - our customers, our friends. We are currently striving to continue running our operations as normal and the health and safety of our customers and employees are our top priority.
We wanted to give you a piece of reassurance that all of our eliquid and CBD products are manufactured and tested right here in the UK at our Brentwood facility. We must also stress that all components used to create the above products are from UK suppliers.
Here are some steps that we are taking to protect our customers and employees:
We have enforced remote working for employees that this allows to minimise social contact at Vapemate HQ. Whilst we are working our hardest to get your orders to you in time, please bear in mind that there may be a slight delay to your order during this stressful period.


We are constantly monitoring the situation and following advice and best practices from the UK government, WHO, NHS, UK Foreign Commonwealth Office, etc.


Despite following stringent cleaning procedures all year round, we have stepped up the cleaning and sanitising of our warehouse. Please be reassured that all eliquid and CBD products are produced in ISO9001 standard clean rooms.


Our customer service is on hand to help you with any information you may need in regard to your order. If you have any questions on the many precautions we are taking to ensure safety of our customers and employees, please send an email to cs@vapemate.co.uk.
Whilst we feel the current landscape around us is uncertain, we take pride in our hard working and passionate team and our loyal community. We hope that our website and social channels can be a source of escapism for when you need a break from the news.
Thank you for being part of the Vapemate family!
Vapemate HQ
Share This