The 2021 Guide to RTA and RDA Vapes
Jun 12, 2023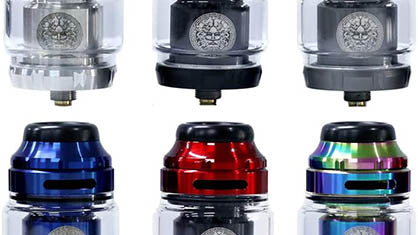 Are you ready to take the next step in your vaping journey? If customisation is important to you, RDA and RTA vaping could be the best way to go when standard kits have lost their appeal.
Today we will be sharing how RDA and RTA vaping works, how the two differ and why you should consider a rebuildable atomiser for your next vape purchase. Plus – we will be looking at which RDA and RTA vape devices are best for 2020.
What is an RDA vape?
RDA simply stands for Rebuildable Dripping Atomiser and is just one of numerous customisable vaping accessories on the market. Although it may sound complicated, an RDA can be clearly identified by the absence of a tank, meaning that there is no place to store vape juice. Instead, users drip e-liquid directly onto the wick allowing for a truly customisable and unique experience. This type of rebuildable atomiser is best suited to a vaper with prior knowledge and experience of the different components of their device.
What are the benefits of RDA tanks?
Although RDA tanks are considerably more advanced when compared to a regular vape kit which comes with a built-in atomiser, there are in fact a range of benefits to opting for this type of vape kit that can appeal to a range of vapers.
Some of our favourite things about RDA vape kits include:
Customisation
Perhaps the most obvious benefit to choosing an RDA vape is the range of customisable features on offer. From building your own tank and wick to picking and interchanging everything from the cap to the posts, you can truly make your device your own. For those who know exactly what type of experience they want to get from vaping, this is an ideal solution and you can change-up the way it looks as and when you please.
Quick and interchangeable e-liquid use
Because an RDA vape has no tank, you don't need to deal with a backlog of vape juice if you're in the mood for a change. Because you're dripping e-liquid straight onto the wick, an RDA atomiser will make light work of burning through your vape juice and so you can switch between flavours easily. Not to mention that RDA's release much stronger and more flavourful hits from your favourite vape liquid.
Impressive vape clouds
Are you a self-confessed cloud chaser? If so, an RDA vape is sure to deliver with the potential to create huge dense vapour clouds with every puff. Thanks to the direct to wick dripping, the coil of an RDA heats up your favourite e-liquid directly, quickly and efficiently resulting in one hell of a cloud. 
What is an RTA vape?
RTA stands for Rebuildable Tank Atomiser. Think RDA but with the presence of the tank to hold your favourite e-juice, with most offering a capacity of up to 6ml depending on the parts you opt for. RTAs are often more popular with those dipping their toe into building their own atomisers as there's no need to manually drip your liquid so wicks wont need replacing as frequently.
What are the benefits of RTAs?
If building your own coil appeals to you and you want the benefits of a tank included for extra vape juice quantities, then an RTA is likely to be your go-to option.
Here are just a few of our favourite qualities of Rebuildable Tank Atomisers:
Sub-ohm potential
Thanks to the presence of a tank, RTAs possess sub-ohm potential due to the quantities of e-liquid available for storage. For advanced vapers, an RTA may even be preferred for sub-ohm vaping as they have the ability to vaporise the same amounts of liquid at lower wattage levels helping to preserve the battery power for longer.
Easy to operate
If you know how to build and replace coils, an RTA is a simple and easy to use vape when compared to an RDA. It's this ease of use that makes RTA vapes so much more appealing to those who are new to rebuilding atomisers as it allows room for experimenting with different coil builds.
Rewarding vapour production
Although RDAs are renowned for their vast vape clouds, RTAs still have the potential to produce impressive plumes of smoke and offer the same intense flavours as an RDA.
Share This