4 Vape Apps for Mobile You Need
Jun 12, 2023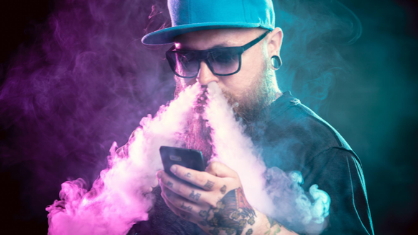 The world of technology grows ever more impressive by the day. Our homes now run on technology, our lives are surrounded by technology, technology is even being used to surpass the need for a human driver behind the wheel of a car. And let's not forget, vaping itself is a technology.
So it should come as no surprise to learn that vaping can be connected up to your mobile phone, your iPhone or your Android, enhancing your experience even further.
Vape apps allow you to research vaping on your phone as well as purchase new flavours of e liquid via your mobile, in fact, vape apps could be just the thing you're missing to complete your vaping experience.
1. Vaffle - the vaper's answer to Instagram.
Vaffle was created in 2018 as a result of vapers being made to feel unwelcome on the larger social media platforms, namely Facebook and Instagram.
In fact, Vaffle is more than just an app that supports vapers, it is an international photography community that encourages its users to share moments from their life with the rest of the gang. You can even find and connect with friends from all around the world on Vaffle, coming together through your shared passions.
Vaffle's tag line is: Vaffle, Global Innovative Vape Social Platform - Born for Vapers! And with its Instagram-esque layout combined with the social aspect of Facebook, it has fast become the go-to app for vapers and vaping personalities the world over.
Because the whole app is dedicated to vaping, once you open the app up you are taken straight to your personal feed where, if you're a vape reviewer, you can upload your vaping videos, or you can connect the app to your YouTube account if you have longer videos to share.
A different section of the app is given over to the various vaping tools required by vapers including a vape calculator and a link to a DIY e liquid app.
Essentially, Vaffle is the all in one app that could potentially take your vaping experience out of this world.
2. Vape Boss - the original vaper's app
This one isn't just a vape app, it's been around so long (5 years and counting), it's now a fully blown social media platform in its own right.
If you haven't heard of Vape Boss, think of it as Instagram for the vaping community - an inclusive platform that reveres vapers rather than despises them. 
The vaping knowledge that Vape Boss harbours is second to none, giving you instant access to information on over 25,000 different e juices, mods and atomisers. Quite literally, this app opens the door to the world of vaping to anyone who needs access via their mobile phone.
That isn't all.
The app also connects users with retailers around the globe as well as containing links to tools such as 'Digital Juice Box', 'Tasting Notes', 'Ohms Law Calculator' and a build guide.
The other draw of the app is that is can be licensed by vape retailers to help promote their own businesses locally, connecting vapers with their nearest vape store (or at least the one that's hooked up to Vape Boss anyway).
3. Ohm's Law - the vaping app for creators
If you build your own mod, then you need this app in your life.
In fact, anyone who is interested in tinkering with coils, fiddling with different wire types, playing with the resistance of their vape device or merely looking to switch up their vaping style, needs to understand Ohm's law and its importance to vaping (if you don't want to get hurt).
And this app allows all would be creators the opportunity to play around with their devices, safe in the knowledge that all of the required maths to ensure a safe vape has been done.
Whilst there are an abundance of Ohm law apps available for vapers to download, this is the one with the simplest interface, so much so it is almost intuitive for first time users. Even the adverts aren't that intrusive.
In essence, this app allows even novice mod creators the opportunity to ensure the correct voltage, wattage and resistance of their device, by simply inputting two values into the app.
So if you're after creating a bespoke device for the ultimate vape, this app is a must.
4. E-Liquid Calculator - for the flavour inventors
Whilst most vape apps are one trick ponies, the e liquid calculator allows all flavour inventors the chance to craft e liquids that are out of this world.
Most e liquid calculators merely allow users to measure out their PG/VG ratio, and account for nicotine. This e liquid calculator on the other hand gives users so much more.
For example, you can record all of your e liquid inventions - no need to reinvent the wheel every time you run out of e juice, you can measure and tweak the perfect ratios of PG to VG, you can adjust the amount of flavour required and your desired amount of nicotine in both millilitres, grams and even drop measurements.
This is one seriously cool e liquid calculator, which might explain why their logo is a penguin.
Share This