5 Famous People Who Died From Smoking
Jun 12, 2023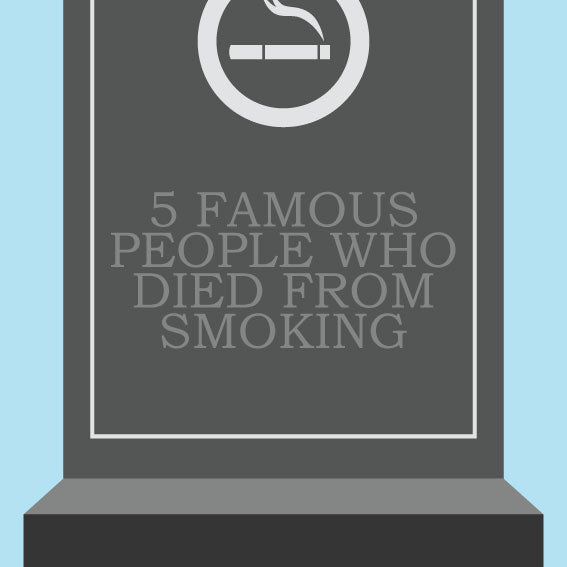 Smoking leads to the deaths of nearly 100,000 UK citizens every year. The numbers from other nations are just as staggering. Of course, the rich and famous are not immune to the harmful effects of cigs. Below are 7 celebrities who died from smoking-related causes.  But if you're struggling to quit smoking, remember that celebrities are human too.
Walt Disney
Walt Disney died at the age of 65 not long after he underwent an operation on his lungs for a tumour. The man behind some of our favourite childhood memories was a chain smoker. He hid his habit from the public by refusing to be photographed while smoking.  The Disney Company continues to carry on that legacy by refusing to depict smoking in most of their films, including the Walt Disney biopic, Saving Mr Banks.
King George VI
Even kings aren't immune to the horrible health effects of smoking cigs. George VI, who was king during World War II and whose stutter was made famous by the film, The King died from lung cancer in 1952 at the age of 56, after decades of smoking.
Patrick Swayze
Mr Swayze, whose role as the studly dancer, Johnny Castle in the film Diry Dancing granted him permanent heartthrob status and inspired some women to watch the movie over 100 times died of pancreatic cancer in 2009 at the age of 57.  Swayze was a heavy smoker, and according to the Johns Hopkins Cancer Research centre, smoking doubles the risk of pancreatic cancer.
George Harrison
The world mourned when the Beatles guitarist died from brain cancer at the age of 58 in 2001. Although brain cancer may not be directly related to smoking, he had previously suffered from a few cancer scares, including oral cancer, which he said he got "purely from smoking." It's that his decades-long habit didn't contribute to his untimely death.
Lucille Ball
The internationally adored funny-woman, and her on and off-screen husband Dezi Arnaz both died from smoking-related conditions. If you're in the mood for some tragic irony, they also both endorsed Philip Morris cigarettes with the "Light One Up For Lucy" campaign.
Share This