Here's Why You Gain Weight After Quitting Smoking, And How to Avoid It
Jun 12, 2023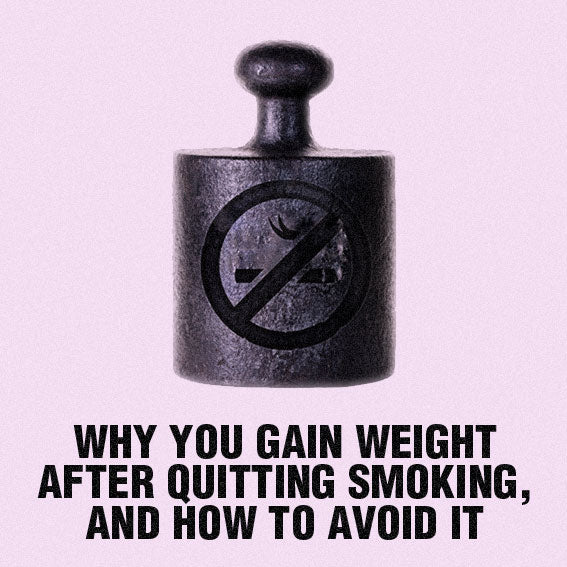 Smoking is awful for your body in countless ways, which means there are countless reasons to quit. However, many people claim that they are afraid of the weight they will gain after they give up smoking.
Statistically, it is true that people gain weight after they quit. Studies have shown that people gain 5 to 10 pounds in the six months after they quit smoking. A new study done by the Penn State College of Medicine explored the long-term weight gain of ex-smokers also found that the heavier the smoker, the more weight they are likely to gain.
There are two main reasons that smokers gain weight after they quit. The first is that smoking increases the body's metabolic rate, causing you to burn more calories, which might sound like a good thing to some people but is also one of the reasons that smoking leads to heart disease. Ex-smokers also gain weight is because they replace the oral activity of smoking with eating. Plus, smoking suppresses your appetite to begin with.
We think this is all the more reason to never start smoking in the first place, but we also don't think it's reason at all to give up on quitting. It's also important to keep in mind that the health effects of gaining 5 – 10 pounds are nowhere near as harmful as the health effects of a lifetime of smoking.
Of course, we sympathise if you're a smoker who's trying to quit and doesn't want to gain weight. Never fear, there are a couple of simple ways to try and prevent weight gain from happening. The first is to find healthy ways to boost the body's metabolism.  What's most effective is aerobic exercise, which is great because doing aerobic exercise will also give your body endorphins that will help curb cig cravings.
Just strap on some spandex and throw in your favourite Olivia Newton John workout tape and you're set. The second way to avoid weight gain after quitting is to be very conscious of what you're putting in your mouth. For instance, an apple will satisfy your oral fixation just as much as a Kit Kat.
Share This