Is Vaping Better Than Smoking?
Jun 12, 2023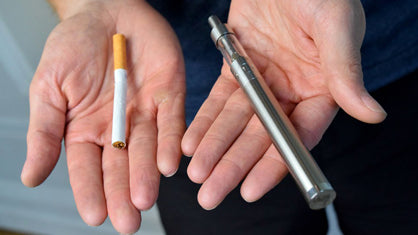 There are an abundance of negative stories about e-cigarettes floating around. But are they as dangerous as the media report? Or are they a useful way to quit smoking for good? Is vaping better for you than smoking? Is vaping safe? We're here to answer your many questions and give you a slice of reassurance!
What are e-cigarettes?
E-cigarettes are battery-operated devices which heat eliquid by a small metal coil. Vapour is then created through the heating process which is inhaled by the user. Read our handy guide on how e-cigarettes work here. Eliquids contain propylene glycol and vegetable glycerine mixed with flavourings and optional nicotine. Want to know more about vape juice? Here's our definitive guide.
In the UK, e-cigarettes are tightly regulated thanks to the Tobacco Products Directive (TPD) to ensure the highest quality and safety for vapers. This is why the nicotine level in eliquid is capped to 20mg/ml. It's important to remember that e-cigarettes don't contain tobacco and don't produce carbon monoxide which are the most harmful aspects of traditional cigarettes.
The deadly effects of smoking
Smoking related deaths account for around 100,000 deaths every single year in the UK. Usually the deaths are caused by one of three popular diseases in smokers: chronic obstructive pulmonary disease (COPD), coronary heart disease and lung cancer.
A YouGov survey conducted last year found that 7.1% of the adult population used e-cigarettes (around 3.6 million) and around 54% of these are ex-smokers. This suggests that e-cigarettes are a great aid in smoking cessation.
Cancer Research UK found that nearly four times as many adults thought e-cigarettes were as harmful or more harmful than smoking when comparing data in 2013 and 2017 (7% in 2013 to 26% in 2017).
Confusion on the effects of nicotine
Many people still believe that the nicotine in cigarettes is responsible for smoking-related disease. This isn't true! However, it must be noted that nicotine is a highly addictive substance. According to Cancer Research UK, nine out of ten people misattribute the risk to nicotine and nearly four out of ten incorrectly believe that nicotine causes cancer.
What happens when you switch to vaping?
According to new studies, switching from tobacco cigarettes to vaping improves the function of blood vessels in just one month.
Prof Jacob George of the University of Dundee, the author of said study, said, "switching from tobacco cigarettes to electronic cigarettes improves your vascular function within the period of a month, significantly."
Another study funded by the British Heart Foundation found this improvement to be true too. Prof Jeremy Pearson, the Associate Medical Director at BHF states, "This study doesn't show that vaping is safe; it shows that there are effects on the vascular system within a month, which mean that your vascular health improves if you are a smoker and switch to vaping."
"However, we would not advocate anybody taking up vaping if they don't smoke" he says.
If you're pregnant and not sure on the best method to help you quit smoking, read our blog post outlining the effects of vaping when pregnant.
The health effects of vaping
Public Health England and Royal College of Physicians have reassured us time and time again that they believe that vaping is around 95% less harmful than smoking traditional tobacco cigarettes. The leader of this study, Professor Ann McNeill actually said, "e-cigarettes could be a game changer in public health." This short film summarises the key facts on e-cigarette safety in the UK.
A NHS study found that lower levels of cancer causing chemicals were found in samples from former smokers using e-cigarettes compared with active smokers. Their levels were significantly lower than both those who smoke cigarettes or smokers also vaping alongside cigarettes. This study clearly shows that smokers must stop their consumption of cigarettes to truly feel the full effect of vaping.
Try to ignore the vape scaremongering
Deborah Arnott, the chief executive of the charity Action on Smoking and Health also echoes, "while vaping isn't risk-free, it's much less risky than smoking, which kills over 250 people a day in the UK." She reassures vapers that they shouldn't be scared of vaping and revert back to smoking as "that really would cost lives".
Share This