Our Top Nicotine Free Vapes
Jun 12, 2023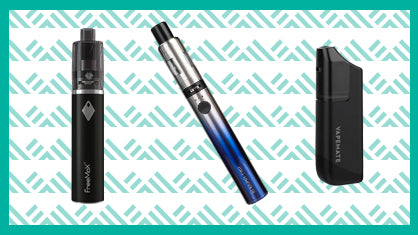 One of the persistent myths that surrounds vaping is that it's for ex-smokers, or that it has to involve vaping nicotine. That couldn't be further from the truth. 
Why vaping doesn't have to involve nicotine
You never have to have touched a cigarette to enjoy vaping, because satisfying a nicotine urge isn't the aim of it. Vaping is a fun hobby, it has something for everyone, from beginners with starter kits through to experienced vapers who want to modify their equipment. 
Vaping is so much more than just a way to help people stop smoking. It has itself become a subculture, an inclusive community united through their love of a fun habit. 
And best of all, the vaping community is full of people that don't even use vaping to get a nic hit. Because you don't have to be addicted to nicotine (an incredibly addictive substance), in order to enjoy vaping. 
Benefits of vaping without nicotine
E liquid without nicotine just contains food grade ingredients.

You can't get addicted to vaping if there's no nicotine present. You do it purely for the pleasure of the act. 

You can enjoy the same 'smoke break', so if you're worried that when you quit smoking you won't have access to the social side of it, you're wrong. You can vape and socialise, you just won't be poisoning your body with nicotine and all the other harmful chemicals found in cigarettes. 

Nicotine free e liquid gives a much smoother throat hit - you still get to create big clouds, but without the bitter tasting, throat irritant that is nicotine. 

Zero nicotine e juice is drug free. Nicotine is a drug, it affects you psychologically and physiologically.
So if you want to enjoy vaping without becoming addicted to nicotine, or you're looking to ditch the nicotine from your e liquid, then you'll want to know what nicotine free e liquids are available and which ones are our top nicotine free e liquids.   
But to start off, you'll want to know which is the best device to enjoy your nicotine free eliquid…
Here at Vapemate we stock a wide range of starter kits, vape pods and vape mods, all of which can be enjoyed nicotine free. 
In order to have the best nicotine free vape, you'll need the best nicotine free e liquid. And because Vapemate cater for all (and are renowned for having one of the largest selections of zero nicotine e liquid in the UK), every single one of our standard 10ml e liquids are fully TPD compliant. That means you have over 150 nicotine free, British-made e liquid flavours to choose from. And all at a great price.
The toughest decision you're going to have to make will be which flavour of nicotine free e liquid you will choose!
Not sure which one of our ranges to pick?
A little bit about each one:
Our

Vapemate Origins

10ml bottles are perfect for beginners. 

The Directors Cut options offer high VG and complex blends.

The

Classic range

blends the best of both worlds and has the biggest flavour variety of them all.
Vapemate nicotine free e liquid flavours
Included in Vapemate's own range of nicotine free e liquid flavours are a variety of flavours, desserts, drinks, sweets and chocolate.
But we aren't totally self-involved, we know there are other great e liquids out there and so we are thrilled to feature the work of other e liquid mixologists such as , IVG, Double Drip. 
Finally
So if you're looking to quit nicotine or you're wondering how to vape without getting addicted to nicotine, it's easy. Just choose zero nicotine e liquid and vape away. 
Check out our full range of nicotine free e liquids - there's quite a few to choose from. 
Share This