Smoking vs Vaping - Real Stats
Jun 12, 2023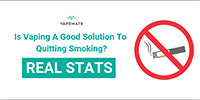 Is Vaping A Good Solution to Quitting Smoking? – REAL STATS!
Quitting smoking is one tough nut to crack – and you know it. It takes a mountain of effort, both physical and mental, to get over the habit that has formed, developed and hardened over the years. Without going into the hundreds – if not thousands – of ways people try to get over the edge, it's safe to say that very few actually succeed. The reasons are wide and varied – from the inherent nature of nicotine and the kind of effects it has on your body to social, mental and habitual compulsions.  
Let's face it – we all know and understand the enormous harm smoking tobacco can cause to the body. More importantly, most of us are now well aware of the actual benefits of quitting smoking.
Quitting Smoking and Vaping: A Study in Numbers
Throughout our blog, we have regularly compared the benefits of vaping and the relative improvements it offers – in the short as well as the long term. In this post, we will follow a purely statistical approach to understand these better.
Adult Smoking Habits In the UK: A Downward Trend
Source: Cancer Research UK, PHE
In 2010, 19.9% of adults in the UK smoked regularly. (Source)

This number slid down to 15.5% and 15.1% for 2016 and 2017, respectively. We can expect similar numbers for 2018, as well. (Source)
Concurrent Rise in the Number of Vapers in the UK
The waning smoking habits in the UK are accompanied by a concurrent rise in the number of vapers – presumably in a bid to quit smoking.
Courtesy: BBC
The number of regular vapers in the UK has more than quadrupled in the last six years – from 700,000 in 2012 to 3.2mn in 2018. The last one year alone saw a sharp 10% rise in the number of UK vapers. (Source 1, Source 2)



The number of UK vapers who have tried vaping at least once has gone up from 15.2mn in 2014 to 19.4mn in 2018 – a 27% rise. (Source)
Does Vaping Help You Quit Smoking?
While it will be next to impossible to evade debates on the issue, the on-the-ground data certainly provides enough indications.
A YouGov survey of 12,969 adults in the UK – with the sample size weighted to be fairly representative of the population at large – suggests that more than half of the regular vapers in the UK (over 3m, as of 2018) have quit tobacco in all forms.
What this means is that for the first time in the history of vaping, the number of vapers who have successfully quit smoking has overtaken the number of vapers who still continue to smoke. These numbers alone are suggestive of the fact that vaping does indeed help quit smoking – as found out by over 1.5mn ex-smokers.
The survey also goes so far as to suggest that the relatively steady yet slower rate of growth that vaping has experienced in the last couple of years can be attributed to the overestimation of risks associated with it.
A study conducted by a body no less commanding than the NHS demonstrated even better numbers. According to the survey (running up to April 2015), 2 out 3 people successfully quit smoking with the help of e-cigarettes, in combination with various NHS Stop Smoking Services.
Vaping Helps You Quit Smoking, Says an Independent Public Health England Review
Vaping has been much talked about.
What's intriguing is that it's more misunderstood than it's understood. A 2015 Public Health England (PHE) review finally confirmed this.
According to this independent evidence review,
Vaping does indeed have the potential to help smokers quit successfully.

Vaping may already be contributing directly to 20,000 successful quits (or more) per year.

E-cigarettes are as much as 95% less harmful than regular cigarettes.

Contrary to the popular opinion, there's no evidence to suggest that vaping encourages smoking – especially in the younger population.
Lack of Awareness: The Missing Link
The same review confirms that nearly half the population (44%) are unaware of these benefits.
What's alarming is the fact that the number of people who think e-cigarettes are just as bad (or worse) than cigarettes has never really gone down. Combating the lack of awareness and misinformation will undoubtedly be the biggest challenge in the coming years.
Leading Public Health Organisations Endorse the Use of E-Cigarettes As An Effective Quitting Tool
A joint statement released by the PHE and 12 other leading public health organisations in the UK in 2016 categorically stated that e-cigarettes pose much lesser risk than smoking. Going a step ahead, the statement endorses the use of e-cigarettes as a quitting tool.
Why Are Hundreds of Thousands of UK Adults Switching to Vaping?
There's enough research available now to claim that vaping is definitely safer than smoking – we'll talk about this in a bit.
Before that, let's take a look at an interesting insight into what actually is driving people to switch to vaping from tobacco.
The survey quoted above found out two major reasons for this shift:
The most common reason being 'to quit smoking altogether',

Followed by 'to save money'.
Does Vaping Help Save Money? Vaping vs Smoking Cost Comparison
The answer is fairly obvious to anyone who has ever tried vaping: Yes, it does.
We have already discussed the costs of vaping vs costs of smoking.
An average vaper won't have to spend more than £270.94 in vaping costs per year.
On the other hand, an average smoker (20 cigarettes per day, at £0.40 per cigarette) will need to shell out a whopping £2,920 in smoking costs per year.
Even by conservative estimates, a regular smoker can save £2,500 or more each year just by switching to vaping.
Quitting Smoking Via Nicotine Control: Vaping Helps!
For a regular smoker, there really is no way to regulate the nicotine intake other than slowing down on the number of cigarettes per day or to switch to less potent brands. An average cigarette contains anywhere between 8 to 12 mg nicotine – but the poor delivery mechanism means that only about 1 mg of it is actually absorbed. Quite obviously – you need to keep smoking more cigarettes to address the cravings.
This is where e-cigarettes really come to the fore.
By allowing you to regulate the nicotine intake just as you wish, e-cigarettes help deal with nicotine cravings without setting off withdrawal alarms. What this also means is that e-cigarettes are much more acceptable to the body as a quitting tool, when compared to drastic measures like going cold turkey.
Vaping Doesn't Just Help Quit Smoking: It's Also a Whole Lot Safer
Vaping is still a relatively young phenomenon. Thanks to this very fact, many people have been circumspect in actually using e-cigarettes or even endorsing their use.
That is fast changing.
As we pointed out earlier, the Public Health England review has confirmed – in no uncertain terms – that e-cigarettes are up to 95% safer than smoking.
The nicotine delivery via smoking is inadvertently accompanied by thousands of harmful substances and chemicals – including tar and carbon monoxide, many of which are carcinogens.
Vaping either completely shuns many of these chemicals or reduces their concentrations to an extremely low level, making it a much safer and cleaner alternative to smoking.
A joint study commissioned by Cancer Research UK revealed in 2017 – for the first time ever – that long-term vapers who have quit smoking face significantly lower exposure to cancer-causing chemicals associated with smoking.
Smoking Is an Enormous Healthcare Burden
While it's true that smokers do contribute via various taxes, they also put the system through an enormous grind.
It's estimated that treating illnesses and conditions that can be directly attributed to smoking costs the NHS upwards of £2.5bn per year. In addition, the local authorities are required to spend £760mn on an annual basis to extend social care services to smokers (Source).
But that's just an overview of the important numbers. There's a lot more to this – the productivity costs, house fire costs, passive smoking costs and so on. Smoking is also a major cause of mortality in the UK. In 2016, 77,900 deaths were attributed to smoking – a 16% share of all deaths that year.
This interesting ready reckoner produced by Action on Smoking and Health (ASH UK) suggests that smoking costs communities across the UK a massive deal – upwards of £12bn each year!
Conclusion
Considering all these stats, it will be fair to say that smoking is an expensive habit – and not just in terms of money.
Vaping, on the contrary, is much less harmful, much safer in the long and short terms and has been endorsed as a viable quitting tool by multiple leading authorities, experts and organisations. The benefits of switching to vaping and quitting smoking are undeniably attractive.
If you are new to vaping, do take a moment to check out free guides, latest news and valuable vaping insights we publish in our blog. To learn more about how vaping really works, head to the exclusive Vapemate Getting Started Guide.
Share This