Enjoy the zero nicotine flavour with our nicotine free vapes
Jun 12, 2023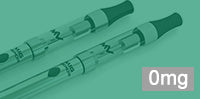 Vaping has become more than just a way to stop people from smoking. It has become a subculture.
The vaping community is full of people that don't even use vaping for a hit of nicotine. If you fall into this category then this article is for you.
Here are some of the best nicotine free vapes and e-liquids.
V2 Ex Standard E-Liquid Starter Kit
The first e-cig on this list comes from V2 and is a great way to get into trying nicotine-free vape pens. The kit comes with a 50ml e-liquid. There are seventeen different flavours to choose from and all of them are available with 0mg.
Also included in the kit are three different vaping batteries. The standard which is 3.11 inches long and is good for approximately 200 puffs. The long, which is 4.3 inches long and is good for approximate puffs, and the EX which is 3.94 inches long and also good for 300 puffs.

The kit has everything to get started to look sleek and stylish while vaping zero nicotine e-liquids!
Mig 21 Clear Fusion Vape Pen Kit
Though it is compact enough to do some stealth vaping, the design is so stylish that you should be wanting to show it off to everyone, rather than keeping it a secret. However, since it is a great vape pen for any e-liquid, there's no need to be discreet anyway.
The kit comes with a 30ml bottle of e-juice. It contains four varieties to get you started, combined with 0% nicotine e-liquid. After that, find any new favourite flavour with 0mg of nicotine.

The kit also includes:
Two 140mm Super Batteries

Three Clear Fusion 1.3 ml tanks

Mig Cigs Ego style carry case

30 ML Bottle of E-liquid

USB Charger with cable

Wall Adapter
Magnum Snaps E-Cig E-Pack Kit
The packet looks very similar to a regular pack of cigarettes but with the bonuses of being an e-cig and nicotine free. With this product, you get the sensation of smoking a real cigarette without the smell and health risks. They are lightweight and compact, making them ideal as an on the go vape.
The kit comes with a three e-liquid cartridges that are available in a tobacco and nicotine free version. It also includes:
One charging case

Two batteries

Three sample e-juice cartridges

Universal AC2USB Adapter 110/240V

Micro USB Charging Cable

Car Charger
Triton II Starter Kit
Boasting the fact that the Triton 2 is the smallest sub-Ohm device ever made, it is ideal for cloud chasers on the go. A bonus is the fact that cloud chasing on the go can be done with 0mg nicotine juices.

Choose among a ton of flavours to order when adding the kit to the cart.


Also included in the kit are:
Two Triton II 700 mAh Batteries

Two Triton II Glass Tanks (2ml)

Three Triton II Coil Heads (.75 ohm)

Two Standard Mouthpieces

One Wide Bore Mouthpiece

USB Adapter

Wall Charger

Instruction Manual
Eleaf ICare Bonus Bundle
If you are new to vaping or have little experience, this compact vape pen style e-cig vape is perfect for you. It is so easy to use, it's very discreet and best of all, extracts loads of flavour from the e-juice. The tank has a decent capacity at 1.8ml, so with three bottles, the juice samples should last for quite a while.
The kit comes with three free samples of 0mg e-juice. Choose from Blueberry Blast, American Red Tobacco or Watermelon Wave. Of course, once these samples are finished, any nicotine free vape juice will work
The kit also includes:
The Eleaf iCare battery

Seven IC 1.1ohm Heads

USB Cable

User Manual
To finish, we thought we would include one of our own blends of e-liquid on this list. This caramel flavour, in particular, has received over 300 positive reviews, showing how popular this product is with vapers. It is ideal for anyone with a sweet tooth.
Each pack contains
Plastic 10ml bottle filled with Caramel Eliquid

Child-proof and tamper-evident bottle with leak-free filling tip

PG/VG e-liquid blend with premium Caramel flavourings

Pharmaceutical grade nicotine (strength to order)

Can be used with all types of refillable electronic cigarette or personal vaping devices (PVD)
Share This