Wales to Ban Smoking in Public Places
Jun 12, 2023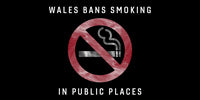 Wales is set to become the first country in the UK to ban smoking in public places.
The new rules mean smoking will be made illegal in public areas such as playgrounds, outside schools and in the grounds of hospitals.  Those found breaking the law will face fines.
In a press release this month the Welsh Government announced it voted last year to introduce the ban, which will come into place in 2019.
The move aims to protect people from second-hand smoke and further 'denormalise' smoking for youngsters.
Wales Smoking Ban - Complaints About Smokers
While on a visit to the Glan Clwyd maternity unit recently, Health Secretary Vaughan Gething was told of complaints about smokers.  Staff told him that mothers were making complaints about smokers outside as they entered and left the unit. Complaints had also been made about smokers outside the hospital's main entrances too.
Teresa Owen, Executive Director of Public Health at Betsi Cadwaladr University Health Board, said: "a hospital is no place for smoking and the Health Board is determined to create a smoke-free environment.
"We receive numerous complaints about people smoking around the hospital, particularly near the main entrance. We need to find a way of ensuring our site is smoke free, while also supporting more patients, visitors and staff to quit."
Smoking is the biggest burden to the NHS in Wales costing an estimated £302m each year and nearly 5,500 deaths. The Welsh Government's Tobacco Control Delivery Plan aims to help more people to quit by encouraging the use of quit smoking services, and improving referrals to these services.
Denormalise Smoking in Wales
Mr Gething said: "We have seen significant changes to the attitudes to smoking since 2007. Back then we received some resistance to change, but we have seen a remarkable culture-change and I am pleased our plan to extend smoke-free areas to outdoor public spaces has received overwhelming public support.
"I am proud that Wales continues to be at the forefront of UK action to reduce smoking and prevent young people from taking it up in the first place. This is another step in the right direction to de-normalise smoking in Wales."
Many hospitals have no-smoking policies in place but these have proved difficult to enforce.
The Welsh administration has been ahead of the rest of the UK when it comes to smoking legislation and brought in the ban on smoking in indoor public places in April 2007, ahead of England.  Last year Public Health Wales urged a ban on confectionary-flavoured ecigarette flavours saying they were attractive to children and could lead to addiction in adulthood. It also called for an e cigarette ban in and around school grounds.
Share This