World's Top 5 Most Expensive Vape Mods
Jun 12, 2023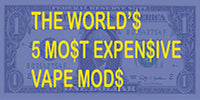 When you think of the most expensive and prestigious tobacco, you will automatically think of Cuban cigars. A boxset can cost a few hundred for the experience.
But with the rising popularity of vaping, it got us thinking… what's the world's most expensive vape kit? If you have the cash available, what can you get for your money?
It's time to see how the other half live and vape in luxury. Prepare yourself because some of these prices are going to blow you away.
Here are the 5 most expensive... 
5. Gepetto Elite V2 Vape Mod - $2,500
Gepetto was the first company to mass-produce and release customised vape mods to the world, inspiring other vape manufacturers to create their own.
The Elite V2 stands at around 110mm tall, 25mm wide, and 35mm deep. Its connector is 23mm wide and recesses in for your atomizers and features an adjustable 510 with a brass connection pin.

The Elite V2 has a Mitec firing switch which is strategically placed in a spot that makes it comfortable for use of either the index finger or thumb when firing the device. The battery cap screws on and off for easy access to the battery and features a gold screw to adjust for the battery rattle.
All Elite V2 products are handmade, giving them a personalised feel and hence the reason for the hefty price tag. Each model is made from handcrafted wood, meaning you will never find two alike.
However, because they are so unique, they can be difficult to get your hands on, creating bidding wars which will raise the prices. If you looked to buy one for yourself, you may be looking North of $3,000.
4. Otto Carter Vape Mod – $3,000
These are less of a vaping mod and more of a work of art. The Otto Carter vape mod is named after the mercurial artist himself and these masterpieces are truly something to behold.
Carter is a highly skilled engraver and if you look to acquire his services, you are going to need to reach deep into wallets and purses as even his most simple creations will cost you over $1,000.
Modern engraving makes the most of laser cutting technology, eradicating mistakes in design and cuts out the cost of humans.
Hand engraving like that is a very labour-intensive and time-consuming process, so you will be guaranteed a design that is completely unique and customised.
3. Top Hat Mods Vape Mod – $10,000


You may already be familiar with the Top Hat brand, picking up most of their products for around the $50 mark. This particular model is the TI 26650, but you may be wondering why this creation is worth $10,000.
Well, this vape mod is handcrafted and is one of the most beautiful mods available. The titanium case is inlaid with a beautiful selection of wood, boasting an elegant style you won't be able to match. It is also incredibly comfortable to hold in your hand, you won't want to put it down. 
It carries a SX350j battery, SS vape battery cap and boasts a manual adjust/reverse thread for better functionality.
The exclusivity has seen it sell out from the Top Hat Mods store, meaning if you have the cash or drive to get your hands on this device, you will have to go through a third-party store. 
If you thought this mod was expensive though, there are still two more to come that make the TI 26650 look like pocket change.
2. Magic Valley Vapors SX350J Dual Mod 18650 – $109,000
Ever thought of owning a 3D printer and creating your own vape mod? That's exactly what Magic Valley Vapors did and the rest is history.
This print has been designed to utilize a 22mm Fat Daddy Vapes 510 connector with a deck thickness of just under 2.5mm. This 'print' allows for battery changes without the use of any tools and a compact form factor of slightly less than 3.6 inches in height, just under 2.4 inches wide and less than 1.5 inches thick at its centre, it's thickest point.
If you don't fancy creating your own, you'll have to fork out over $100,000 to get vaping with this device, which may be even more expensive than the home you're living in right now.
However, even with this price tag, it doesn't even come close to the most expensive vape mod in the world. 
Here it is:
1. Sofia from Shisha Sticks – $887,000
If you read the title and thought we were joking, we weren't.
At a gargantuan $887,000, this is the most expensive vape mod ever purchased. It has earned this mammoth price tag from its diamond, crystal and gold-encrusted shell. Specifically, it features a 24-carat gold firing button, hand-blown Italian Murano glass, and 246 pieces of 2-carat diamonds.
The tip of the vape was fitted with a six-carat oval diamond reported to be worth over $60,000 alone.
However, even if you could afford to buy this jewel, you won't be able to get your hands on it.
Shisha Sticks were commissioned to create this vape mod by a Russian billionaire that wanted to surprise his girlfriend with something for her birthday.
But don't be too disheartened. We're sure that if you had the sort of money to spend on a mod like this, you could get something just as magnificent and unique. 
And that concludes the top 5 most expensive e-cig mods. Having one of these in your possession will put you in the world's elite class of vapers.
If you're looking for value for money alternatives, be sure to check out cheap vape kits today!
Share This