Top 5 UK E Juice Flavours & Concentrates ~ VapeMate.co.uk
Jun 12, 2023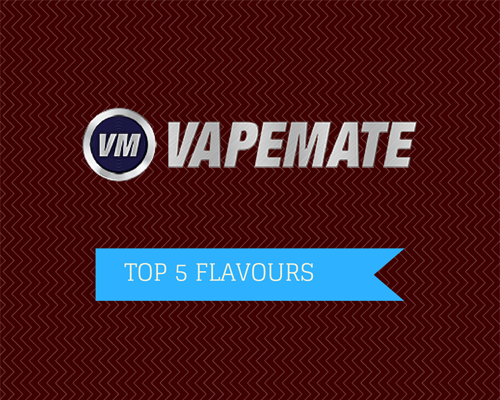 Looking for the Best Vape Juice? Are These the Best E Liquid Flavours in the UK?
Are you wondering which of our flavours you want to try this Swaptober? Here are our Top 5 most popular flavours with Vapemate customers, with reviews of each. All of our reviews are collected by a third-party tool, Yotpo, that verifies identities and does not allow for anonymous posting or fake reviews.
All of the reviews below were copied with only minor editing for grammar. To see the reviews on each juice, scroll down to the bottom of the page.
1. Menthol Ejuice
Menthol is our top-selling eliquid. It offers a crisp, clean mint flavour which users describe as superior to that of other similarly flavoured eliquids from other companies.
While only vaping menthol I have tried many brands of liquid and have found that paying premium prices from premium sites doesn't necessarily get you value or flavour. I've found both here and will reorder. -Graeme L., 11/09/16
One of the better Menthols
After trying loads of menthol liquids vapemate is the smoothest and easiest on the throat and good value to boot! -Arthur E., 09/07/16

 

Another popular alternative to menthol is Say My Name – formerly Heisenberg.
2. Vanilla Custard
This juice pairs the creaminess of custard with the decadence of vanilla.
Best flavour yet
Love the vanilla custard flavour,it's the only one I use now. -Billy C., 01/09/16
Best Vanilla Custard yet !
I'm an avid user of Vanilla Custard. I've tried thousands of different flavours but always revert to the trusty vanilla, this is 100% the best smoothest vape I've tried hence I'm currently sitting with another 100ml in my basket right now. -Jamie A., 11/08/16
3. Rainbow Fruit
A delightful fruit blend that tastes like rainbows and unicorns - no real unicorns are used in its manufacture.
Delicious fruity flavour, sweet and rich, definitely an all day vape. Tastes exactly like some of the high end juices on the market but at a much better value! Will definitely reorder. -Lauren M., 21/08/16
Full of various flavours in one e juice OMG a different flavour hits the palate with each vape; awesome vape. -Claire A., 01/08/16

 

If you like something that's refreshing and fruity try our watermelon e liquid
4. Virginia Tobacco
Virginia Tobacco eliquid tastes like Golden Virginia rolling tobacco, and simulates the taste of a cigarette for smokers who need this to help them quit.
This is a great E liquid. The tobacco one is our favourite and has been the main contributing factor to my Husband quitting smoking. We will continue to buy from Vapemate. -Judy M., 04/10/16
An excellent tasting flavour, this might be the one that finally gets me off of the dreaded roll ups. -Heath W., 17/9/06

 

Another popular alternative to this tobacco is RY4 tobacco.
5. Strawberry eliquid
This juice will have you thinking you just bit into a fresh strawberry straight from the garden.
Love the flavour
Bought this flavour several times now. It has the best strawberry flavour i've ever tasted. -Julian J. 25/06/16
Very nice
The strawberry eliquid is really nice it's just like biting into a strawberry. Very juicy. -Gareth D., 07/04/16

 
Best Vape Juice in the UK?
These top five flavours are some of the best tasting eliquids in the UK and some of the best vape flavours.  Try one and see if you agree – is this the most popular eliquid in the UK?  Look out for our DIY e liquid top 5 too.
This is our customers' top 5 eliquids.  But that's not to say they are to everyone's tastes. There are more than 200 flavours at Vapemate including shortfills, standard 10ml e juices and blend-it-yourself DIY ejuices – those are easy by the way, if you've not come across them before, just use our e liquid calculator to get your blend just right.  But when it comes to vaping for beginners, this top 5 favourite e liquids is a great place to start.
Do you have a favourite flavour of eliquid from the Vapemate inventory? Tell us the details or leave a review in the comments section.  Which is your best UK vape juice?
Share This