Top Rated Vape Mods for 2020
Jun 12, 2023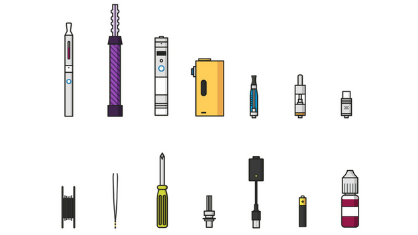 As we go into 2020, despite ominous reports from the US surrounding the safety of vaping, it is universally acknowledged that vaping is better for your health than smoking.
So whether you're an experienced vaper, or if you're thinking of taking up vaping as a new hobby when the New Year rolls around, we've assembled a list of (what we consider to be) the best vape mods and vaping brands on the market.
So no matter whether you're looking for the best tasting e-liquid, the most unique design for your vape mod or the best device that will enable you to create the biggest vapour cloud, let us take you through our top-rated vape mods.
Top Rated Vape Brands 
It's worth mentioning that the best vape companies will try to do something a little different to set themselves apart from the competition, so it's worth knowing a bit about the brands themselves.
And before we delve into actual vape hardware, it should also be noted that we may not feature these brands' hardware on the website all the time, this is simply a list of vape brands we think are great all rounders. 
Our top rated vape mods of 2020 will follow below. 
Also, new vape brands are popping up all the time with their new to market products that we can't get enough of, so if you see hardware below, but their brand isn't here, that's why.   
So, let's take a look at some of the more popular vape brands and why they might appeal to you.
1. Innokin
Innokin has been around since 2011 and got their name by crafting simple and less feature-rich yet extremely reliable hardware. They have a huge factory in Shenzhen, China that manufactures all of their hardware, they also have a Customer Service/Repair Centre in California - this brand is truly a global giant.
Innokin's products tend to be pleasing aesthetically, but also very robust and hard-wearing.
While not particularly fancy or modern, the reliability and low price make them a great choice for vapers new and old.
2. Uwell
Uwell are another China-based company that has been around since the early days of vaping. While they similarly offer relatively simple but very reliable products, their offerings are generally a lot more interesting than Innokin's.
3. SMOK
Now we are getting into the more upmarket offerings. SMOK has a huge range of products and has supplied over 80 million customers worldwide with quality vape devices, making them one of the top vape mod brands. 
Smok have a better build quality and much more varied range than the other suppliers, and are constantly releasing new products to suit all levels of experience. Keep an eye on our site for their next range.
4. VooPoo
VooPoo claims its main goal is to "provide the most innovative and up to date vape devices for global users" and it makes a fair go of it. They regularly release new mods and come up with all kinds of unusual abstract designs and new ideas including a wealth of smart wattage features. 
VooPoo are one of the more recent brands on our list, originally making medical hardware and moving into the vape industry in 2017.
5. GeekVape
GeekVape by name, GeekVape by nature. This company are aware who their target market is and provide a range of nerd-attracting features like military-grade materials, shockproof and waterproof mods, huge batteries and more. 
They look the part too, with several of their products sporting brutalist designs, and a few others coming across like sci-fi weapons. The build quality is generally top shelf but they definitely aren't designed around accommodating beginners, so this is one for the vape geeks (of course).
6. Aspire
Aspire are another Chinese vape manufacturer who have exploded globally in a few short years. They pride themselves on their customer service and overall product quality. 
They are also responsible for a few revolutions in the industry that are still used today, including being the first brand to allow adjustable airflow in a vape mod, and creating the first-ever piece of hardware that allowed sub ohm vaping, which is now a pretty big deal and offered by all major brands.
7. Council of Vapor
Council of Vapor are an incredibly high-quality brand, known for creating products that give off an air of luxury and solid craftsmanship. If you were unaware of vaping, you would be forgiven for confusing some of their hardware as some sort of power tool or taser. 
They seem to be going for this style, with some of their vapes even having pistol grips and triggers instead of buttons. CoV also go for a unique style with their smaller pens and other items, trying to create modern and stylish designs for the contemporary vaper.
8. iJoy
iJoy is a huge corporation with a wide range of products, but they are best known for creating some of the highest-rated vape mods. Outside of the iJoy brand for their main hardware, they also create e-cigarettes under the name CigPet. 
They claim they are trying to be 'the Louis Vuitton of vaping' and are constantly pushing new products with improvements for the user and trying to position the newest technology into benefits and additional features.
9. Sigelei
Sigelei are one of the oldest vape manufacturers and are arguably a big part of why vaping has become so mainstream. If you're a new vaper, starting out with a Sigelei might be a wise choice, plus it's likely to result in nods of approval from old school vapers. 
Sigelei mods radiate beauty and originality with designs ranging from looking like alien technology to a top of the range perfume bottle. They do have a selection of more standard designs too, which are also pleasing to the eye and make the gulf in quality between Sigelei and other brands pretty clear. 
10. Kangertech
The strides Kanger has been making in product range, hardware quality and keen pricing simply can't be ignored. They have a wide range of products to suit all vapers, all with unmatched build quality, balanced and innovative form factors, and cost less than many of their lower quality competitors.
Share This